Bertha's punch to repair pit lifts hopes for tunnel progress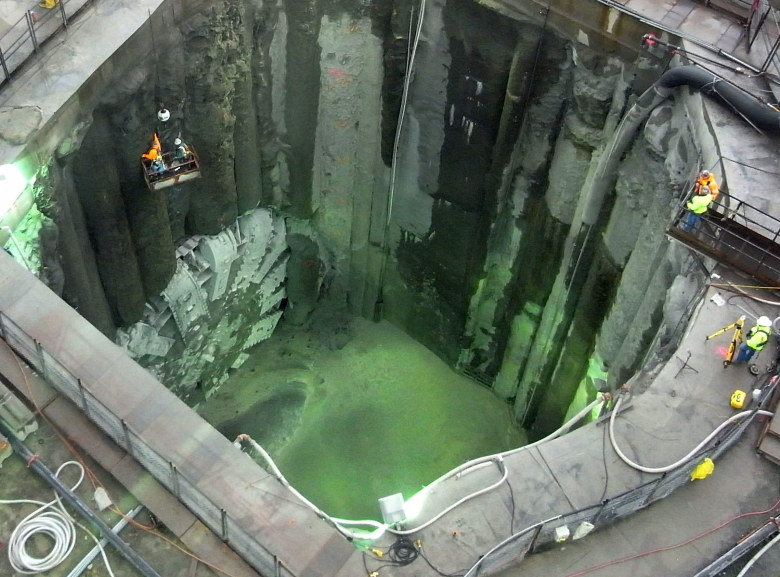 Bertha seen from SR 99 access pit #2. (WSDOT)
Tunnel-boring machine Bertha's slow and successful breakthrough into its repair vault Thursday raises hopes that the great dig toward South Lake Union could resume by late summer.After being stranded underground for more than a year, the damaged machine wormed through a 20-foot concrete wall in less than two days, without overheating and without stalling as feared.As a precaution, the tunnel team ran the Highway 99 machine much slower than its design calls for. That strategy worked, helping the team dodge further delays to a job already nearly two years behind schedule.
Based on the current pace, with crews working two 10-hour shifts per day, the world's largest-diameter tunnel-boring machine should reach the center of the vault within a couple of days, allowing for the front end to be dismantled and hoisted to the surface for repairs, a 4 million-pound lift.
"We're very pleased with the progress we've made" this week, said Matt Preedy, deputy Highway 99 tunnel administrator for the Washington State Department of Transportation.
Chris Dixon, project director for the Seattle Tunnel Partners (STP) contracting team, told reporters he wasn't surprised with the machine's performance.
"Not really. Not with the detailed planning involved," he said.
The machine stalled Dec. 6, 2013, as temperatures spiked around the cutter drive. Wet sand and grit penetrated the rubber seals and may have damaged the main bearing, which is to be replaced.To some Seattleites, anxious about whether Bertha would ever move again, its progress this week seemed curious.
But the grind really wasn't so fast.
Advertisement: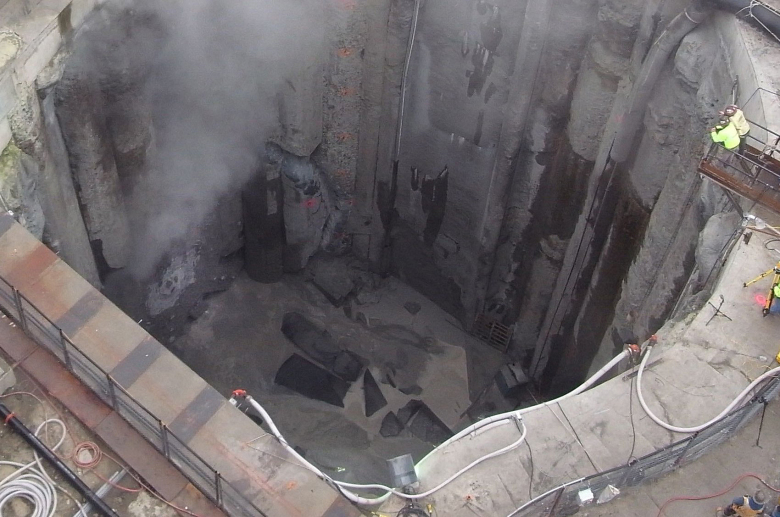 A cloud of dust and concrete fragments rises from around the giant cutterhead of tunnel-boring machine Bertha, at left, as it breaks into a repair vault near the Seattle waterfront Thursday. When it reaches the center, the 4 million-pound front end will be hoisted. (WSDOT)
The way Bertha typically tunnels, it mines forward in 6½-foot increments, stopping so each tunnel ring can be fastened into place.To reach the vault, Dixon said, operators kept Bertha cool by pressing it forward at a rate of about 1 foot per hour — one-sixth its normal design speed.Bertha's slow trudge forward was part of a strategy devised by machine manufacturer Hitachi-Zosen.The plan called for reducing both the speed of the cutterhead, which is normally 1 rpm, and the thrust force, which on a good day reaches 30 million pounds.Temperatures this week reached only 86 degrees at the bearing, far below the 140-degree limit Hitachi set for this week's operation, Dixon said.
After the repairs are done, Dixon said, tunnel boring ought to run at normal speed.
"The deeper we get, the better soils we get into, the better conditions for tunneling," Dixon said. "It's going to take about a year to complete."
The drill was supposed to reach South Lake Union in late October of last year, about a 15-month journey. As of Thursday, it was about 1,039 feet on its 9,270-foot route to South Lake Union.
Hitachi is paying for the machine repairs, under warranty, Dixon has said. For now, STP partners also are paying for the excavation of the pit, and the crane to lift the machine.
The state has denied $125 million STP requested to cover repair and delay costs, and STP this winter filed $22 million more in change-order requests related to pit excavation and groundwater pumping.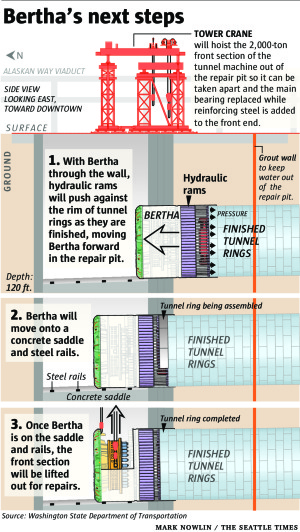 After it dives below the viaduct, the machine will reach packed glacial soils 200 feet below street level, instead of the loose waterfront fill.
Asked what the ultimate cost of Bertha's repair will be — and who will pay — Dixon responded: "We don't have an estimated repair cost yet."
Officials have been reluctant lately to give detailed timelines. They repeatedly mentioned safety, a source of pride during the beleaguered project. Five workers fell last week, one hurt seriously, while installing rebar for a wall at the north end.
"We're not going to take any shortcuts," Dixon said. "We're not going to do anything unsafe in getting the work done. It's going to take as long as it's going to take."