Seal & Cylinder Source, Inc. offers a complete line of new & re-manufactures Cylinders, Pumps Motors & Valves for all your hydraulic & pneumatic applications. Our product offering goes beyond just seals and cylinders. We are dedicated to meeting and exceeding our customers expectations with all their Hydraulic & Pneumatic requirements. If there is a part or service we are unable to supply, Our trained staff will do there best to direct you to the correct source. It is our main goal is to assist our customers with solutions to all there unique problems. We have built a strong distribution network where we can offer these value added products in conjunction with our repair, seal and manufacturing divisions. Seal & Cylinder Source, Inc. is a one stop shop for all your hydraulic & Pneumatic products .
Tie Rod Cylinders
Seal & Cylinder Source, Inc. specializes in JIC-NFPA & Custom Tie-Rod Cylinders. Our cylinders are built tough for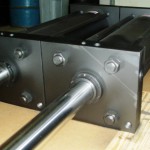 Automotive, Agricultural, Industrial and Mobile applications. Our tie-rod cylinders are available in Low, Medium and High Pressure for all Hydraulic & Pneumatic applications.
These quality cylinders are made from durable materials that help them to withstand conditions that would damage many other cylinders.  They are offered in both ASAE standard models and a wide variety of custom stroke lengths.
We stock standard JIC-NFPA cylinder componets to insure fast delivery of your cylinders. Consult your customer service representative for more information.
Duty: 3000 PSI Hydraulic, pre-lubricated
Standards: Meets or exceeds all JIC and NFPA requirements
Bore Sizes: 1-1/2 to 32 standard Larger Bores are available
Pistons Rods: 5/8 10 standard.
Standard Chrome Plated Rod. IHCP (Induction Hardened) available upon request
Mountings: 22 Standard NFPA Mounting Styles available
Temperature: Standard Buna-N Seals -65 F to + 200 F. Optional Sealing Packages available Consult
Ports: Standard NPTF dry seal tapered threads. SAE, BSPP, Code 61 Flanged Ports, and Over/Under sized ports are available.
Stroke: Standard strokes furnished to nearest 1/8, Normal stroke tolerance +/- 1/16.
Stroke Adjusters and Stop Tube Options are
Cushions: Available upon request for all bore sizes at either or both ends.
Tie Rods: 1144 stress proof steel
Cylinder Tube: Honed, steel tubing
Certain Metric Sizes available
Double Rod Ended
All Stainless Steel, Epoxy Paint, Nickel Chrome Plating, Extra-thick Chrome Plating.
Metallic Rod Wiper and/or Rod Boots
Position Indicators and Distance Sensing Switches are available.
Mill-Duty Cylinders
Seal & Cylinder Source, Inc. offers a complete line of mill duty cylinders to meet all your Hydraulic & Pnuematic applications. Our mill-duty cylinders are designed to meet the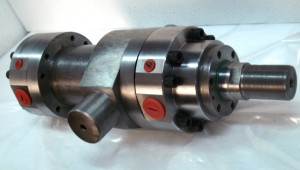 tough demands of our primary metals customers. Our cylinders are used on Arc Furnaces, Slab Casters, Rolling Mills, Coating Lines, and other Steel Mill applications.
Our Cylinders are available in standard bore sizes from 50 mm (2.0 inch) to 400 mm (16.0 inch) with strokes up to 8 m (300 inch), these robust cylinders are engineered to survive in these, and similar, extremely demanding applications.
Mill duty cylinders are also available in custom configurations offering larger bore sizes, longer strokes, and higher operating pressures and Temperatures.
At Seal & Cylinder Source, Inc. we specialize in mill duty seal applications. Our cylinders can be fitted with customized seal packages to work with flame resistant fluids. We can provide seals for mill duty applications that are rated to 600 Deg F and compatible flame resistant fluids but not limited to Castrol Anvol, Quaker Quintolubric, Dow Ucon Hydrolube, Skydrol, Exxon HyJet, Pyroguard, Swepco, ACT Water Glycol, Hougho-Safe.
Standard 'Inch' Sizes for customers who prefer inch-based designs
Threaded Flange Design for improved performance with shorter lead-times
Heavy Duty Materials with High Yield Strength Steel Used Throughout  (Including Flange) for Increased Durability
Metric availability for customers who prefer metric designs
Improved bearing design for demanding applications
Bore sizes from 3 to 30 inches
Stroke lengths up to 24 feet
Hydraulic operating pressures up to 5,000 psi
Pneumatic operating pressures of 250 psi
At Seal & Cylinder Source, Inc. we have a huge range of standard products in our catalogs and our engineers are ready to work with you on any custom designs that go beyond  the scope of what is included in our documents. At Seal & Cylinder Source, Inc. we provide our customers with solutions to their most difficult problems.
In-Stock Welded Round Body & Tie-Rod Cylinders
At Seal & Cylinder Source, Inc. our welded  cylinder line is one of the most competitive and highest quality Clevis Mounted, Rod Eye & Pin Eye mount cylinders in our industry.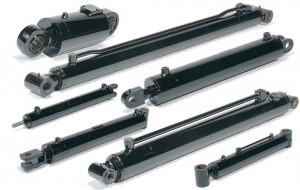 These cylinders are tested to our highest standards. Our cylinders are designed to perform in the Agricultural industry as well as other industries.
We have thoroughly tested these cylinders to our standards for quality and performance and they meet or exceed them.At Seal & Cylinder Source, Inc. we stand behind our products and back up all of our cylinders with a 1 year limited warranty.
These cylinders are Painted black standard. All-steel welded construction makes 3000 PSI SCS, Inc. welded cylinders ideal for agricultural and construction applications. If you require a special color please consult your sales representative.
These cylinders are pre made and in stock in our factory. Most cylinders and Components can ship in 1-2 days. If you are unable to find the exact cylinder you need in our catalog, we can modify any cylinder to fit your application.
Designed For: Double-acting applications
Max PSI 3000
Piston: Ductile iron ASTM A536 65-45-12 for excellent life
Piston Lock Nut: Grade 8, high tensile zinc-plated
Gland: Ductile iron ASTM A536 65-45-12
Tube: Precision honed steel
Tube seal: Nitrile O-ring with Poly-temp Hytrel back-up
Rod: High tensile ground & polished hard chrome plated rod
Rod seal: Std PolyPak with B lip design (Polyurethane U-cup with nitrile O-ring expander)
Wiper: Polyurethane
End Mounts: Cross Tubes or Formed Female Clevis with pins and clips included
Pin and Pin Clip: High tensile zinc-plated steel
Piston ID Seal: O-ring
Piston OD seal: Hallite 755 piston seal with wear ring or Bronze impregnated PTFE piston ring w/rectangular CS nitrile expander
Ports: SAE O-rings
All Seals: Manufactured to US specifications
Testing: 100% hydro-pressure tested
Pneumatic Cylinders
Seal & Cylinder Source, Inc. supplies  pneumatic cylinders are built to perform on the toughest applications. Incorporating a variety of  advanced features, proven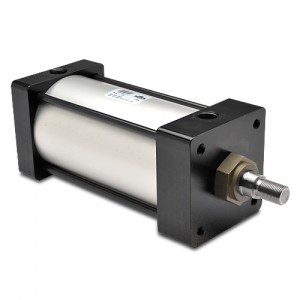 through the years, these cylinders will provide a long, maintenance-free service life.
Advanced engineering combined with quality materials and expert workmanship contribute to the making of a rugged, top quality pneumatic cylinder.
We offer pneumatic cylinders in aluminum & steel as a standard. Custom construction and special materials can be provided upon request. Our engineering department can assist you with all your cylinder design requirements.
Available in bore sizes from 1.5 to 12″
Designed to provide long life in many rugged applications.
Working pressure ranges up to 150 psi air and up to 1500 psi hydraulic f.
Can be specified with built-in flow controls, cushions, shock pads, stroke adjustment, magnetic piston for hall effect or reed switches, and many other time saving options.
Wide range of options and sizes makes it fast and easy to select a cylinder to fit your application.
Tie-rod construction of Tom Thumb® cylinders makes them easy to repair in the field for extended life.
Telescopic Cylinders
Seal & Cylinder Source, Inc. offers both Single Acting and Double Acting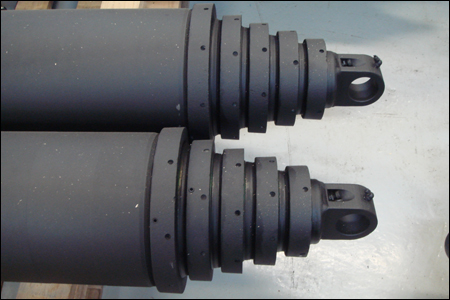 Telescopic Hydraulic Cylinders. Our standard catalog list telescopic designs as well as custom application engineered telescopic cylinders.  These cylinders are available in 2, 3, 4, 5, or even 6 stages.
Rebuild-able V-packing seal package provides low-pressure and high-pressure sealing. External packing nuts provide added support for tubes and simplify servicing. Polished steel stages.
Custom X-treme load telescopic cylinders can be manufactured upon request. Consult our engineering department for all your custom requirements.
Telescopic Capabilities:

Bore sizes from 3- 14″

Strokes up to 500″

Operating pressures up to 5,000 psi

available in various materials. rod coatings and seal packages
Custom Cylinders
Custom Cylinders are purpose-built cylinders with unique features and do not follow a common standard or size. Our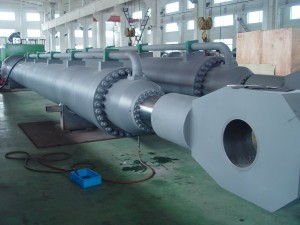 custom cylinders are used in a variety of applications. Our engineering and design techniques are base on safety, repair-ability in the field and performance. We use the latest design techniques and blend with the old time tested designs. We do this to manufacture a product that out performs our competition while maintaining affordability.
In addition to standard models, Seal & Cylinder Source, Inc. specializes in the design of customized cylinders. We have the experience to provide special cylinders to meet your specifications and requirements.Special features can include the addition of Linear Displacement Transducers, Proximity Switches, Dual Mounting Styles, High Temperature & Pressure Seals, Double Rod Cylinders, and Pressure Boosters.

At Seal & Cylinder Source, Inc. we can manufacture custom cylinders for all types of hydraulic & Pneumatic application. Our experience is extensive but not limited to custom tie-rod, round-body, square-body,extreme service, telescopic, mill-duty, intensifying and miniature cylinders. If you can think it! We can build it!
Custom Cylinder Capabilities
Up to 48 inch bore (1219mm)
Up to 876 inch stroke (22250mm)
Up to 15,000 psi cylinder pressure (1034 Bar)
Up to 60,000 psi intensifier pressure (4138 Bar)
Any construction style (tie rod, extruded, bolted, mill-type, welded, telescopic, crimped, intensifier)
Any material (carbon steels, stainless steels, exotic steels, aluminum, composite)
Snow Plow Cylinders
Seal & Cylinder Source, Inc. offers new replacement snow plow cylinders for most major snow plow manufactures. Our snow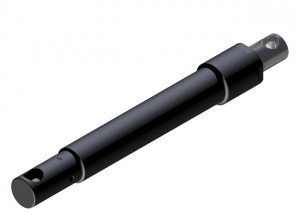 plow cylinder line is one the most competitively priced cylinders and manufactured to the highest standards in the industry.
We can supply replacement snow plow cylinders for but not limited to Case, Caterpillar, John Deere, Massey-Furguson, New Holland, Kubota, Western Plow, Boss Plow, Snow Sport, Arctic Plow, Blizzard Plow, Hiniker Plow, Viking-Cives, Lawton, Daisey Chopper, Trailbuster, Snowman Plow, Fisher Plow, Meyer Plow, Snow Bear, Pathfinder, EZ-Plow, Falls Plow, Sno-Gtae, Henke MFG.
Features:
Ductile iron piston.
Ductile iron gland, drilled oil passages.
Honed steel tube, precision finished for extended seal life.
High tensile, hard chrome plated rod.
Tube Seal: O-ring
Rod Seal: Vee Packing and ST wiper
2-Piece 93A urethane piston seal, with a 70A nitrile energizer.
All Seals: Manufactured to US specifications.
Accumulators & Actuators
Seal & Cylinder Source, Inc. offers accumulators for many types of industrial applications. Our engineering department can assist with ensuring the accumulator fits the application rather than forcing the application to fit the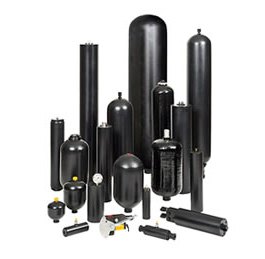 accumulator. The three common designs of accumulators are Bladder, Diaphragm, and Piston styles.
Our accumulators are available up to 15,000 psi working pressure. Specialized variations of Diaphragm and Bladder accumulators are available for pulsation dampening, silencing, and shock absorption.
Types:
Bladder Type
Diaphragm
Piston Type
Accessories:
Bicycle valves
Rupture Discs
Shock Absorbers
Bladders
Seals
Hydraulic Pumps
Seal & Cylinder Source, Inc. supplies hydraulic pumps for all types of applications. At Seal & Cylinder Source, Inc. we bring our knowledge of the Fluid Power Industry and extensive supplier network to you which translates into cost savings and reduced downtime. If we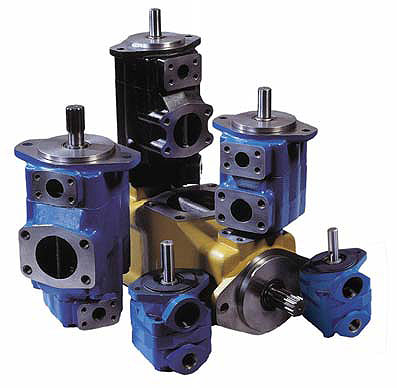 can't supply you with what you need when you need it, we will point you in the right direction to find it. We specialize in several types of hydraulic systems and hydraulic repair.
We work with hydraulic pumps, hydraulic valves, hydraulic filters and hydraulic motors. We can work with hydraulic vane pumps, hydraulic oil pumps, commercial hydraulic pumps, manual hydraulic pumps. Some brand name pumps we work on are Bosch Rexroth hydraulic pumps, parker pumps, Vickers pumps, Hagglund Pumps, and Sundstrand Hydraulics. Contact us for more information.
Seal & Cylinder Source, Inc. focus is on providing Hydraulic repair services rebuild, repair and calibrate used hydraulic components and equipment such as hydraulic pumps, cylinders, actuators, valves and servo valves, motors, jacks, rams,  hydraulic power units and hydraulic machines or systems.
Hydraulic pump types

2 Pumps for open and closed systems

Gear pumps
Rotary vane pumps
Screw pumps
Bent axis pumps
Axial piston pumps swash-plate principle
Radial piston pumps
Peristaltic pumps

Multi pump assembly
Hydraulic Motors
Seal & Cylinder Source, Inc. has extensive expertise with hydraulic motors and carries a substantial inventory of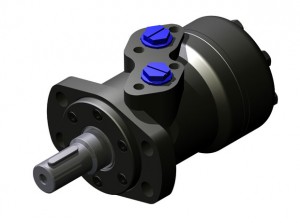 motors from several major vendors. Depending on your requirements, We can supply high-quality hydraulic motors, taking into account a wide variety of functional and hydraulic system requirements.
Seal & Cylinder Source, Inc. supplies hydraulic motors from high quality manufacturers, such as Calzoni, Denison Hydraulics, Parker, and Staffa Kawasaki. We can provide premium build hydraulic motors, as well as motor spare parts, service and installation manuals.
Hydraulic motor types
Gear and vane motors
Generator motors
Axial plunger motors
Radial piston motors
Proportional, Servo Valves
Seal & Cylinder Source, Inc. Offers a wide range of Servo Valves, Proportionals, and related Servo Amplifiers. Our products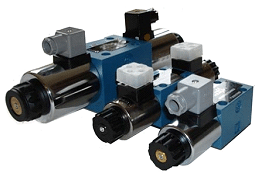 are known for quality and precision. Manufactured and designed with an impressive range of flow rates, sizes, pressures, configurations, and step response times, their Servo/Proportional Valves meet the unique needs.
Some typical applications include metal forming, plastics, power generation, automotive and aerospace testing, and gas, steam & weather turbines.
Proportional Valves & Servo Valves
Directional Control Valves
High Response Control Valves
Flow Control Valves
Pressure Relief Valves
Pressure Reducing Valves
Servo Valves
Manual Directional Control Valves
Seal & Cylinder Source, Inc. offers hydraulic control products for pressure control, flow control and directional control valves for optimum combination of performance, reliability, value, and responsiveness. Our valves are used on machines such as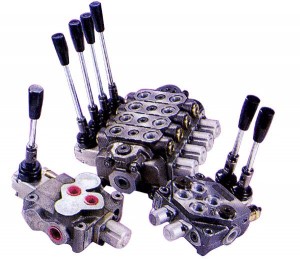 material handling equipment, on-highway trucks, grounds care equipment, aerial lifts, medical chairs and tables, forestry equipment, trash compactors and recycling bailers, agricultural equipment, construction equipment, industrial equipment, log splitters, and many more. Our Manual Directional Control Valves have flows up to 20-30 GPM and working pressures up to 2,500-3,000 PSI.
Manual Control Valves:
Knob, linear, rotary-type, or handle-type operators
A wide variety of circuitry configurations
Spring-offset, spring-return, and detent type designs
Inlet relief valve
Hydraulic kick out
SAE o-ring boss and NPTF ports
Mono-block and Sectional Valves:
Compact construction and low pressure drop
Long service life
Choice of various operation methods, such as manual, pneumatic, hydraulic, and electro- hydraulic
Choice of various ports and circuit valves
Spring return
High accuracy spool is hardened for long term accuracy
Sub-plate mounting
Handle shift operation
.